Aluminium Bronze Casting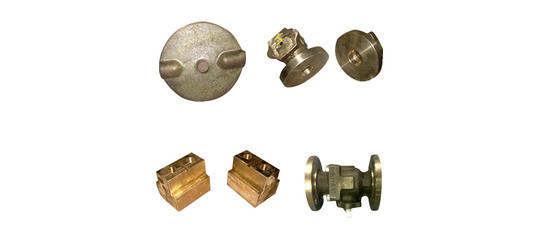 Product Name :-
Aluminium Bronze Casting
Product Category :-
Bronze Casting Foundry
Product quote!
Aluminium Bronze Casting
Used for :
Pressure vessels
Pump Body castings
Impellers for chemical plants
Engine components
Propellers on ships
Landing gears on aircrafts
Applications :
Sugar Mills
Hydraulic Press Manufacturers
Wood Working
Plywood Machinery Manufacturers
Rolling Mills
Fire Extinguishers Dealers
Oil industries
Petroleum industries
Marine industries
Engineering industries
Chemical industries
Materials :
Brass Bronze Gunmetal or Copper Alloy Non ferrous alloys Bronze Copper Casting Casting Brass or Copper Alloy Bronzes Non ferrous alloys Bronze Copper Castings Casting
Brass is 319 type or BS 249 type
Any special Brass Material Composition as per customers requirement
Weights :
From 10 Grams to 40 kg's
We can offer Copper machined castings casting cast parts
Size :
Specification or as per custom design or requirement.
Bronze Casting Finish And Coating :
Natural, Nickel Plated, Tin Plated or any coating as per customer specification.
Others Terms :
aluminum casting, aluminum castings, aluminum bronze casting, sand casting aluminum, bronze castings, aluminium die casting, bronze aluminum, bronze casting supplies, aluminium castings, aluminium bronze, cast aluminum, aluminum bronze, metal casting, aluminum foundry, aluminum die casting, custom bronze casting