Bronze Ingots Bronze Billets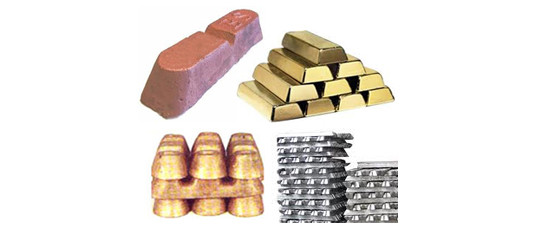 Product Name :-
Bronze Ingots Bronze Billets
Product Category :-
Bronze Ingots Bronze Billets
Product quote!
Bronze Ingots Bronze Billets
After it is refined, the molten steel is tapped into refractory lined ladles. The steel is then teemed (poured) into a series of ingot molds. After the ingots solidify, the ingot molds are stripped and the ingots are placed in soaking pits for heating and to equalize the internal and external temperature. Following the soak, the ingots are hot rolled in large primary rolling mills to produce slabs, blooms, or billets depending on the final products desired.
Bronze Ingots
We are a leading supplier of top notch quality bronze ingots that are available in different chemical compositions in accordance with industrial requirement. Procured from reliable vendors these ingots are extensively used in castings for boiler mountings, water pressure fittings and oil lubricated bearings.
Owing to its superb strength, these ingots are even used for:
Grease and oil lubricated bearings like: lined and unlined
Grease lubricated bearings and motion bushes
Bearings and bushes for heavy loads
Aluminium Ingots
We supply premium quality aluminium ingots that are free from any sort of impurities and widely used for resistance to varied temperature and enhanced durability. Highly acclaimed for its qualitative features, these are widely used across petroleum, oil, chemical and marine industries.
Range of Aluminium Ingots offered by us includes:
Aluminum Alloy Ingots: Purity level varying from 91% to 94%.
Secondary Aluminum Ingots: 97% pure
Electrolytic / Primary Grade: 99% pure aluminum ingots
Brass Ingots
We offer finest quality brass ingots that are widely used for superb strength and corrosion resistance. Our diverse range of brass ingot available in standards specifications comprise leaded brass ingots, lead free high grade brass ingots and tin brass ingots. Available in various shapes as per the clients requirement these are widely used in:
Marine fittings
Castings for the electrical trade
Brush holders
Pipe fittings
Gas fittings
Door and furniture fittings
Switchgear brush holders
Valves
Cocks
Plumbing fittings
Hardware and ornamental castings
Pump bodies
Bolts
Nuts
End plates and fittings for marine applications
Imitation jewelry
End plates for heat exchange equipment and machine parts
Flanges
Copper Ingots
We are a leading exporter and supplier of fresh as well as re – melted copper ingots. We procure our array from trusted vendors who enable us to offer finest quality as per industrial standards. Along with this we supply electrolytic grade copper ingots and copper ingots of 99.8% purity in compliance with client requirements. We also offer customization in weight and size as per client specifications.
Some of the features are:
Highly malleable
Free from impurities
High strength